Anguilla Luxury Villa Rental - Bird of Paradise
Sandy Hill Beach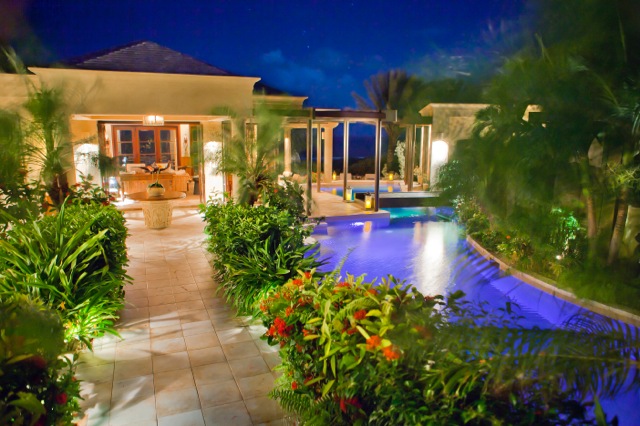 Rated One of the Top 20 Villas in the World by Islands and Ocean Home Magazines.
Nominated by World Travel Awards as best ultra luxury villa on Anguilla.
Bird of Paradise stands out not only for luxury but for value. Unlike most Anguilla villa rentals, the Bird of Paradise is marketed by the owners and not a management company, which allows for the best possible pricing for a luxury villa on Anguilla. The villa boasts an award-winning architectural interior design, two pools, a lovely crescent beach, as well as luxury amenities and a staff that continually receive rave reviews. We'd be happy to give you a quote.
What makes this Anguilla villa special?
Bird of Paradise was designed and decorated by Wilson Associates, professional resort designers for, among others, Armani, Four Seasons, and Ritz Carlton. As described by one writer, the Bird of Paradise is a luxury villa with a "WOW" factor. The villa has been featured on magazine covers, and has won a Gold medal for design from the American Society of Interior Design (ASID), and it has been named one of the top 15 villas in the Caribbean by both Islands and Ocean Home magazines. The best references, however, come from guests. We hope you have the time to read the guest reviews, which we continually update.
Unique layout
Bird of Paradise is designed in an Asian tropical style with multiple buildings of approximately 4000 square feet and two lagoon-style pools surrounded by lush landscape. This creates an interior compound with absolute privacy and security. The unique floor plan also transforms every bedroom into a master suite and gives every room a panoramic view of the beach, ocean, and surrounding islands. This provides each guest with their own, separate space, in addition to four separate living and dining areas for gathering together.
Privacy
The villa offers all the privacy, comforts, and spaciousness of your own home. Unlike many villas on the island, you are not part of a group of villas and do not share staff or the property with others. The staff works exclusively for you and the villa offers the same services and amenities as a hotel, but at a lower cost. A luxury villa is ideal for families and for friends traveling together, or for a honeymoon or special anniversary. Chef, in-villa spa, personal trainer, yoga, kids' club and more can all be arranged. Learn more about the advantages of a luxury villa rental versus a hotel.
Not one, but two pools!
The villa has two swimming pools and 33,000 gallons of heated water, which is a true luxury on this small island where few luxury villas have heated pools. A swim up ledge allows you to take in the panoramic views of Sandy Hill Bay and the mountains of St. Barth's and St. Martin.
Beach Location
The island is only 16 miles x 3 miles, so it's easy to get to all the beaches. Bird of Paradise has panoramic views over Sandy Hill Bay beach, which is accessible within three minutes, via steps and a private path. The Villa is close to Shoal Bay, Crocus Bay, and the longest, most private beach on Anguilla, Savannah Bay, is only 5 minutes away..
All master suites
The four master suites each have a private veranda and views of the beach and the mountains of St. Barth's and St. Martin. For added privacy and comfort, each suite has a hidden bar and coffee service. An office can be set up as a fifth bedroom, which is often used for young children or as a nursery. Bathrooms vary, but include indoor/outdoor showers, whirlpool tubs, dressing tables, and walk-in closets, etc.
Option of two villas and 12 bedrooms
For large groups, Bird of Paradise has a partnership with a neighboring villa for a total of 12 bedrooms, which is ideal for family reunions, large multi-generational vacations, or an Anguilla wedding.
Space to gather together and celebrate
For gathering together as friends or family, the Bird of Paradise offers four living/dining areas, including an interior living area with a wet bar, an exterior living room with a fireplace, a sun deck, and a large covered veranda. The villa offers true indoor-outdoor living as entire walls completely fold away for 270-degree views, welcoming the breezes and fragrances of this tropical paradise. We offer seating for 50 and dining for up to 22 guests. To see every room of the villa, check out our video tour.
Space to sneak away
In addition to each suite having a private veranda, there are hidden hideaways on the property including a hilltop deck with a hammock and an Indonesian day bed among a grove of palm trees, perfect spots to sneak away and read a book.
What's Included at the Villa?
Amenities include all you'd expect, and more, from a luxury villa, including luxury toiletries, linens and bathrobes, as well as Wifi, a landline and a complimentary local cell phone. Click here for a full list of services and amenities that are included at the Bird of Paradise.
Villa Services
Your services include a concierge to greet you on your arrival and make all your on-island arrangements. Michelle will give you a cell phone, so you may contact her from wherever you are on the island. The Chef can welcome you with rum punch, the villa's signature champagne cocktail, and canapés. You will arrive to find the bar and kitchen stocked as you requested. The IT tech will make sure you are connected to the internet and your iPod to the sound system. Brenda and Anna will come daily for housekeeping, and Jose will set up beach chairs and umbrellas for you. We can arrange for a car and driver for arrival and departure, a rental car and a chef and butler to suit your requirements.
Chef Services
We understand that a luxury villa rental might mean total privacy to some of our guests, whereas to others it means added services. We can arrange for a chef and butler services for one, two or three meals each day. Our basic package does not include a chef but we are happy to provide you with one if you so require.
Children
Children are welcome at the Bird of Paradise. We have sand and pool toys, DVDs, and lots of games. The design of the Bird of Paradise is secure and private in that you enter the property through remote-controlled gates and, then, at the end of the driveway, you enter the compound through another set of wooden gates. Stone-chiseled walls draped in bougainvillea surround the interior living areas and pools. Your concierge can arrange a "kid's club" or babysitting options. As with most of the villas in the Caribbean the pools are not surrounded by fences or gates, so parental supervisions of young children and those that do not swim is paramount.
What to do on Anguilla
Check out our pages on yacht charters, golf, spa treatments, mermaid school, water sports, scuba, cultural tour, fossil hunting, and our favorite restaurants. But, most importantly, please know that we, as owners, and Michelle, as your concierge, are here to share with you all that we love to do on Anguilla.
How to Get to Anguilla
Most of our guests arrive from St. Maarten as it's easily accessible by most airlines and, then there is a 20-minute water taxi to Anguilla. Your Bird of Paradise concierge will make the arrangements and greet you on arrival.
Anguilla is in the British West Indies. The island has been voted as having the best beaches, the best restaurants and food, and as the most romantic island! It's only 30 square miles, so everything is accessible.
What more can we tell you?
Anguilla weather is consistent throughout the year. Rental car(s) will be delivered to the villa waiting for you with an Anguillian license. Our concierge works hard to make sure your vacation is hassle-free. There are grocery stores nearby and your concierge will place your personal food and drink order, which will be waiting at the villa for you. Your concierge is there to provide you with all the information you need and answer all your questions.
Let us give you a quote
Our rates vary depending on the number of guests in residence. For example, if you are a single couple who wants the luxury and ambiance of a private home, the entire villa will be exclusively for you, but we give back to you our savings in utilities and housekeeping costs for using only one of the suites. We, therefore, have different pricing for 1, 2, 3, 4 or 5 bedrooms. The timing of your trip will also impact on the price depending on whether you travel in Low, Shoulder, High or The Festive Season. We offer the option of no chef or a chef for one meal, two, or three meals a day. Your quote will be matched exactly to your specific requirements.